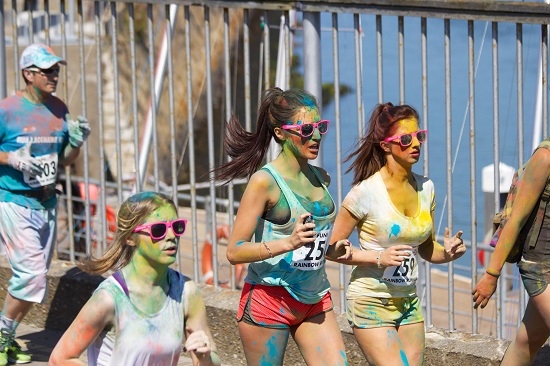 Getting Ready to Run: Tips for Beginners and Seasonal Runners
Running is a cost-effective, time-efficient, easy-to-maintain sport to take up. Whether you're brand new to it, or it's been a while since you last laced up your running shoes, we've got some tips to help you get set up to run for miles.
Gear up with the right equipment. Comfortable, supportive running shoes are a must. If your shoes aren't comfortable in any way you risk giving yourself permission to give up running. Your ideal running shoes are lightweight, have a flexible soul, a snug fit, don't crowd your toes, have good tread, and some shock absorption. When you're trying on shoes go for a little jog around the store to give it the full test. Whether you run inside or outside dress for comfort. Like your shoes, if you aren't comfortable in your clothes, you risk begging off your run.
Set a long-term goal for yourself, whether that's to run a 5K by the end of the year, or run around the block within 5 minutes in 6 months. If your motivation is to lose weight, still choose a running-specific goal because the muscle your build from running could make the scale's number an unreliable measurement of your success.
Run on your own stride with properly fitted custom running shoes. There are endless discussions online about different running patterns, and how your feet should hit the ground. Everyone's feet are different, and the same goes for stride and gait. As long as you are comfortable and not feeling acute pain, run the way your body wants you to.
Start slow. For your first run, try a slow jog halfway around the block, then walk the other half. Evaluate how your body feels. Can you run the next half? Recognize the difference between pushing your body and punishing it. If you need to walk for a while, that's okay! Moving is progress, no matter the speed.
Investigate training schedules and apps and try them out until you find what appeals to you. Don't expect to run full out your first week, and don't try to because your body isn't ready yet. You've got to build up your strength and endurance to prevent serious injury. Even if you were a well-rounded runner last summer you need to build yourself back up again.
Finally, forgive yourself when the plan doesn't go quite as you hoped. If you don't like the route you usually run, pick another one, even if it means driving across down to a park. If you don't like the shoes you invested in, find new ones. The important part is not to give up. Continue to alter your running process until you feel good from the start of your run to the end. Join a running group or hire a trainer to get professional feedback on your training to feel extra confident.
Wilson Health Services offers many treatment plans to help runners stay in top form all year long. Call our office today to find out how chiropractic care, massage therapy, physiotherapy, or a visit with our chiropodist could help you meet your goals. Call us at 519-624-8000 or visit https://wilsonhealth.ca.