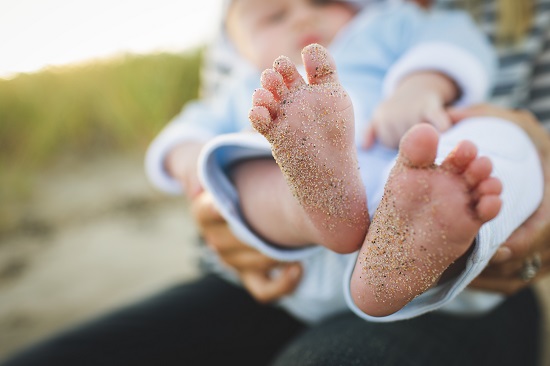 Summer Feet 101: Beyond the Pedicure
Does the thought of "summer feet" turn immediately to pedicures and nail polish? While a bit of aesthetic pampering is a lovely indulgence, getting your feet ready for summer should also take foot health into consideration. Your lower limbs, lower torso, and overall posture can be influenced by your every step. Keep these tips in mind before you head outdoors to enjoy the warm weather.
At The Beach:
When you're packing for the beach include a pair of comfortable sandals or breathable close-toed shoes in the mix. Your friendly neighbourhood chiropodist will tell you that the beach is one place in particular where they wish you
would choose functional footwear over style. The beach has burning-hot sand that easily hides pointy stones, fish bones, and even broken glass. You want durable protection to keep the soles of your feet free from harm. Sand also shifts unpredictably with every step, making it difficult to keep your balance and easy to sprain an ankle or tweak a nerve in your lower back. Pack footwear that offers both structural support and protection from exposure such as walking sandals or breathable close-toed shoes. Pack one of each so that you're equally ready for a walk along the water's edge or to join a game of beach volleyball.
At The Park:
You have to be ready for anything from long walks to the bathroom and Ultimate Frisbee. Just like the beach, you may be tempted to reach for your flip-flops as you head out the door. Resist temptation! Closed-toed shoes or sandals are your best bets for the park because, like the beach, your feet will come into contact with uneven ground and a variety of hazards. There's a good chance that your feet will get wet, either from the splash pad or sweat, so choose footwear that won't let your feet slide around inside and throw you off course. Make sure your walk in the park is a walk in the park!
For Gardening and Yard Work:
Closed-toed shoes are non-negotiable if you're mowing the lawn, planting or weeding the garden, or doing any other activity that requires tools, blades, or heavy lifting. Put as much padding between your feet and your tools as you possibly can. Closed-toed shoes will also help to protect you from bug bites, sunburn, and any unseen hazards like a stick your dog abandoned or when you forgot you left your trowel on the grass behind you.
When you're shopping for summer shoes choose comfort and function and never compromise those for style. The support your shoes provide may contribute to the overall wellbeing of your body, effecting your posture, the pressure on your joints, and muscle strain. Flip-flops are best saved for pedicures, pool decks, or from your back patio to the kitchen for an iced tea refill.
Wilson Health Services is fully equipped to tackle all of your summer feet concerns, including your battle between style and functionality. Talk to our chiropodist Patricia Wilson about your foot-related concerns like stubborn plantar warts or fasciitis, the benefits of orthotics, and pain management options. Book an appointment with our Guelph Chiropodis by calling 519-836-8008 or visiting https://wilsonhealth.ca