Massage Therapy Kitchener
What Is Massage Therapy?
Massage Therapy is an ancient therapeutic technique considered to be one of the oldest forms of treatment known to man. Massage therapy is the manipulation of soft tissues of the body to gain a therapeutic effect
Massage therapy consists primarily of hands-on manipulation involving a range of techniques to treat the soft tissue and joints of the body. The purpose of massage therapy is to prevent, develop, maintain, rehabilitate or augment physical function or relieve pain.
While many individuals might provide "massage", massage therapy should be provided by a Registered Massage Therapist (RMT). An RMT is an individual who has completed a diploma program at a recognized school of massage therapy and who has passed a registration examination offered by the College of Massage Therapists of Ontario.
GET ON THE PATH TO RECOVERY, BOOK YOUR APPOINTMENT TODAY!
How can we Help?
Massage therapy can be beneficial to people of all ages and conditions. It relieves muscle tension and pain, increases flexibility and mobility. Massage improves circulation by bringing oxygen and other nutrients to body tissues. Some conditions commonly treated are:
Stress relief and associated conditions
Headaches and migraines
Muscle and related conditions such as spasms, strains, and sprains
Back pain
Repetitive strain injury
Circulatory and Respiratory problems
Pregnancy and labour discomfort
Post-injury and post surgical rehabilitation
Meet Our Massage Therapists in Kitchener
Kelly Morlock | Kitchener Massage Therapist
After graduating from the Canadian College of Massage and Hydrotherapy in 2000, Kelly joined Wilson Health Services when the clinic was in its infancy therefore making it over 18 years that Kelly has been treating patients at Wilson Health Services. Over the years, Kelly has watched Wilson Health Services grow into the thriving practice that it is today.
Kelly specializes in motor vehicle accidents, chronic care and headache treatments. She has additional certifications in Thai massage and Pre and Post Natal Care. When Kelly is not in the clinic, you can find her at local companies administering on-site workplace treatment as well spending quality time with her family and friends. Kelly is currently not only working at the Cambridge clinic but also working at our second location in Guelph Ontario.
Stephanie Williams | RMT In Kitchener
Stephanie graduated from Mohawk College in August of 2015, then obtaining her registration with the College of Massage Therapy of Ontario in October of 2016. Stephanie's passion for her work stems from a childhood injury requiring years of rehabilitation therapy to manage the injury. Dealing with chronic pain has caused Stephanie to develop a passion for working with clients in similar situations. She has continued her education and grown her knowledge in working with clients experiencing many different conditions with a focus on pain management and maximizing functional abilities.
Having grown up in Paris, Stephanie is excited to give back to the town that shaped her into the person she is today. In her free time, Stephanie loves to bake, take her dog (Bluefeather) for hikes and spend time with her cat (Greyfeather). In the evenings you can find Stephanie enjoying superhero movie nights with her husband. Stephanie loves to follow her passions and strives to continuously learn new techniques to better help her patients in their unique paths to recovery.
Stephanie's passion for her work has driven her to take additional courses to better serve her clients. She has obtained certification in hot stone therapy, cold stone therapy, Indian head massage, cupping massage, TMJ massage, prenatal massage and Kinesio tape. If you are curious about any of the above, Stephanie will be more than happy to answer any questions and help you decide what treatment and modalities would be most beneficial for your unique needs.
Stephanie Samples | Your Local Massage Therapist in Guelph ON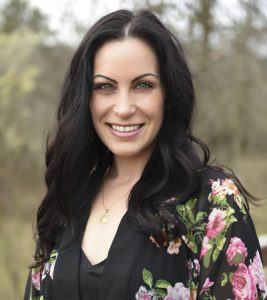 Stephanie is an active member of the College of Massage Therapists of Ontario, and the Registered Massage Therapist's Association of Ontario. With over 15 years of experience,  she is able to provide targeted and therapeutic pain relief, improving the overall health and well being of her clients. Stephanie integrates techniques from traditional Swedish massage, sports therapy, functional kinetic taping, hot stone massage, advanced myofascial release, cupping, cranio sacral techniques, pelvic floor dysfunction and bamboo therapy to provide an individualized treatment plan that assists clients to activate their body's ability to heal itself.
Jessica Aguilar | Guelph Massage Therapist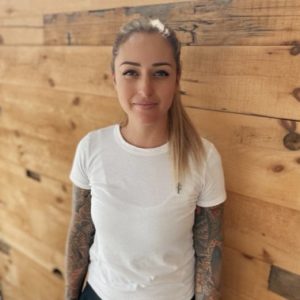 Jessica is a recent graduate of The Canadian College of Massage & Hydrotherapy. She is very passionate about massage therapy, health, and wellness. With her depth understanding of the musculoskeletal system and human anatomy, Jessica is able to use this knowledge to better understand how to treat her clients effectively.
Through listening to the body and thoughtful communication, she has a collaborative approach of reaching the specific goals of her clients. She works to slowly engage with the body to assess what it needs. Working to alleviate any tension or pain. She loves working with people and providing healthy holistic care as it allows her to know that her time is being spent helping other to live a better life and make a positive impact on others.
WILSON HEALTH SERVICES IS LOCATED AT THE SOUTH END OF KITCHENER