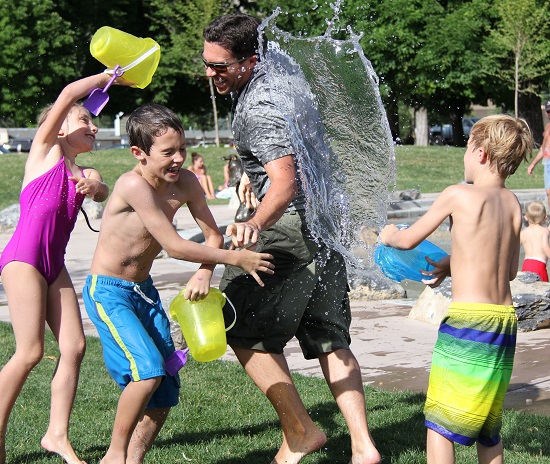 Reduce Back to School Stress with These Vacation-Friendly Tips
You're inundated with advertisements for sales on everything from pencils to laptops, but there's far more to prepare in advance before school starts up again in the fall. If your kids are starting kindergarten or are in their last year of college, here are some great ways to help everyone transition from summer vacation to regular routine with as few tears as possible.
Get back into a regular routine gradually by starting to get everyone to bed and up at their regular time 2 weeks before first bell is due to ring. When you get up in the morning have breakfast, get dressed, and go about your previously scheduled vacation day. Summer bedtimes are challenging because the sun sets quite late so get your blackout drapes hung and commence story time. Turn screens off, cue tidy up time and jump in the bath as per usual. Getting a head start on bed time now means you can work out the kinks before it's detrimental that everyone has a good night's sleep.
Teachers review the basics, but they have a lot to cover and only not enough time to remind students about everything they already know. Help get the kids back into study mode – and get yourself ready for homework help – by playing educational games. Toy stores have an assortment of entertaining math, language, and puzzle games for all ages. It can be as easy as whipping out a deck of cards for multiplication war or dusting off the old chess set for an invigorating game of strategy and problem solving.
About those sales we mentioned earlier; get shopping! As soon as sales start to pop up you want to be looking at school supplies and backpacks. Shoes and clothes can wait until later in August, but don't put it off until the first week of school. Kids play hard and grow quickly without notice, which is why it's important to check whether clothes fit and to invest in new shoes a little closer to the start of school. Read our post on Back to school prep backpacks and shoes for more information about proper fit.
Seasonal fruits and vegetables are abundant and available at a good price right now, which makes it a great time to discover you family's new favourite foods. Get everyone involved in the kitchen to encourage full participation – it's harder to turn up your nose when you helped make a dish – and take them out to a pick-your-own farm, (freeze whatever you can't eat for winter smoothies). At the end of your summer foodie adventure you might just find you have more options for those school-advised healthy snacks and lunches.
Wilson Health Services is a family-oriented multidisciplinary clinic. We treat your kids like our own! Did you know that chiropractic care is suitable for all ages, including children? Come in and talk to Dr. Jay about the benefits of chiropractic care for the whole family and get back to school by putting your best health forward. Call 519-624-8000 or book an appointment at https://wilsonhealth.ca