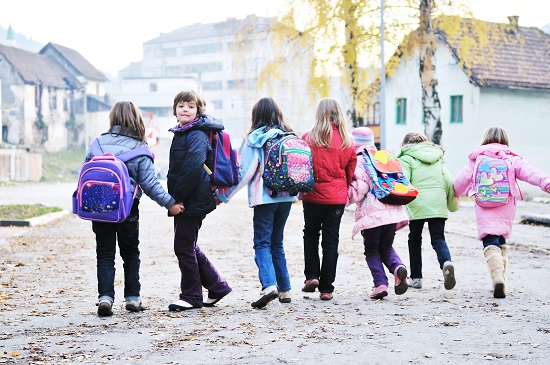 Back to School Prep: Backpacks and Shoes
Back to school shopping isn't just a time-honoured ritual, it's a necessity. Take into account the impact that your choices have on the overall wellbeing of the student whether they are your children or yourself.
Backpacks
A quality backpack has two wide shoulder straps to distribute weight across the shoulders and help prevent them from digging into those tender muscles. Be wary of single shoulder straps, and strongly recommend to your child that they use both straps every time they put their backpack on. A high quality backpack also has padding at the back to provide cushion between the contents of the bag and your back. Your child's backpack should not be bouncing off the backs of the their knees or bottom, so while you may think it will be cost effective to buy a backpack that your little one will grow into, consider the strain to the upper torso that will be put on your child from that that sagging, dragging bag.
More than anything else be aware how much the backpack weighs. Lunch alone can add quite a bit of weight. It is recommended that an everyday backpack shouldn't weigh more than 15% of your total body weight, and even lighter is better. If you or your child has trouble balancing, standing up straight, or finds walking a challenge while wearing their backpack, it is too heavy.
Regularly carting around a heavy backpack can lead to poor posture, rounded shoulders, neck pain, muscle strains, compressed vertebrae, back pain, and headaches. If you or your child are suffering with any of these ailments it might be a good idea to visit your chiropractor or physiotherapist for corrective and relief treatments.
Shoes
Shoes can be a frustrating purchase at any time during the school year, especially during growth spurts. It's tempting to buy a size up considering that children's shoes – any shoes – aren't cheap. Shoes that fit properly will provide a foundation for many physical tasks like walking to the bus, participating in gym class, and even sitting comfortably during lessons.
Unsuitable shoes, or ones that don't fit properly, may cause foot pain and developmental damage, as well as posture and back problems. The most comfortable and supportive shoes have a small heel, no more than ¼ of an inch (approx. 65mm) in height. The toe box should allow your toes to wiggle comfortably without rubbing against the tip. Choose shoes that have at least ½ inch (approx. 2.5cm, or the width of an adult thumb), between the big toe and the front of the shoe to prevent corns, calluses and blisters from forming. Be cautious of buying shoes with too much length in the toe box or else you risk tripping.
For tips about proper footwear and how to best support your specific foot-related concerns book a visit with your Cambridge chiropodist.
Wilson Health Services provides support to the Cambridge, ON community and surrounding area with our personable team of health professionals. Make an appointment today to find out how we can help your family get back to school ready by calling us at 519-624-8000.