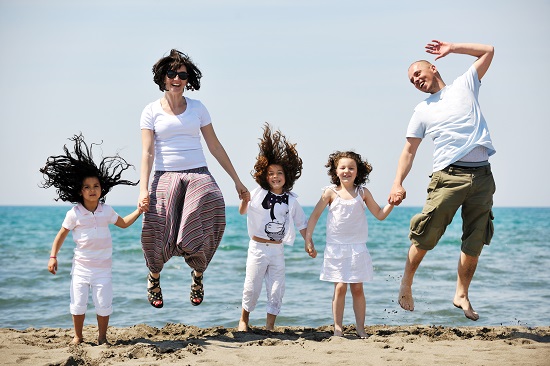 Our Team Approach to Your Best Health
Multidisciplinary clinic is a mouthful, and it's doesn't tell you much about us except that we've got a building with a lot going on inside. Wilson Health Services says a lot about us; a family-oriented health and wellness team at your service to help you feel like the best time of your life is right now.
Wilson Health Services is the realized dream of chiropractor Dr. Jason Wilson and his wife, chiropodist Patricia Wilson; if you've been to our clinic there is a good chance you'll recognize them in the family the photo on our homepage. When Dr. Jay and Patricia aren't engaged in patient appointments they are interacting with the rest of the staff fostering our community facility environment.
Since its inception in 2001 the clinic has grown to embrace complete health and wellness to strengthen the citizens of Cambridge, Ontario by providing chiropractic, chiropody, physiotherapy, massage therapy, acupuncture, laser therapy, shockwave therapy, spinal decompression therapy, and naturopathic care. We offer a boutique treatment experience in one convenient location because it is our belief that each discipline is as unique as our individual patients, but since one course of treatment doesn't suit all ailments your health benefits from a team solution. Our approach negates the stress of contacting individual clinics and repetitive assessments to treat the same condition because the last thing you need when you're in pain is stress.
It is our mission to empower you to take your life into your own hands and make living your best life a reality. We practice what we teach and hope to inspire you to achieve a level of personal fitness and wellness of mind and body. As a team, our medical practitioners want what's best for you and they not only have the opportunity to consult each other on your progress, they want to, which means you won't get any pushback for receiving treatment from a different care giver in another discipline because we intrinsically understand the power the resources of an enriched health care facility can have on your overall life.
Your visit starts with our front desk staff who are there to keep schedules on track and help you navigate through paperwork, be it a transfer of care, medical documents, or insurance claims. When your appointment time arrives and you meet our care professionals face-to-face you will be treated with respect, dignity, and with our full attention. Our health care professionals include a chiropractor, 5 registered massage therapists, 2 physiotherapists, an acupuncturist, a naturopath, a chiropodist, and a low-intensity laser therapist. If your condition isn't responding to your current treatment, or you would benefit from additional treatments in another health care discipline, it's our pleasure to introduce you to that change, and a simple task to speak to our front desk staff to set up an appointment. Your recovery is our top priority, and it's time to let someone take care of you!
To book an appointment call 519-624-8000.
In our single location we can treat a long list of pain, disease, and interruptions to your lifestyle or blocks in your path to good health. A sample of this list includes:
•    Addictions
•    Anxiety
•    Back pain
•    Chronic pain including arthritis
•    Circulatory and Respiratory problems
•    Cold and Flu Prevention and Immunity Boost
•    Depression
•    Dizziness/vertigo
•    Ear infections
•    Environmental/Nutritional Laboratory tests
•    Fibromyalgia
•    Food Allergy/reactions and Immunology lab Testing
•    Foot pain including heel spurs, plantar fasciitis, and Achilles tendonitis
•    Foot-related disease impairment including from diabetes
•    Headache
•    Health Psychology & Lifestyle Counseling
•    Healthy Diet and lifestyle
•    Healthy Gut and Digestion
•    Healthy Weight and Detoxification
•    Heart and Vascular Health
•    Hip pain
•    Incontinence and bowel concerns
•    Insomnia
•    Joint muscle pain
•    Joint pain
•    Muscle atrophy
•    Muscle cramps including menstrual
•    Muscle strains and sprains
•    Nerve pain
•    Orthotics or braces
•    Palliative care related any chronic condition including diabetes, arthritis and osteoporosis
•    Patellar tendonitis or jumper's knee
•    Pelvic pain and discomfort
•    Post disease rehabilitation including heart disease, lung disease, and cancer
•    Post injury rehabilitation including from stroke or nerve damage
•    Pregnancy and labour discomfort
•    Rheumatoid arthritis
•    Stress
•    Tennis elbow/golfer's elbow
•    Toe nail fungus
•    Warts, calluses and corns
•    Whiplash