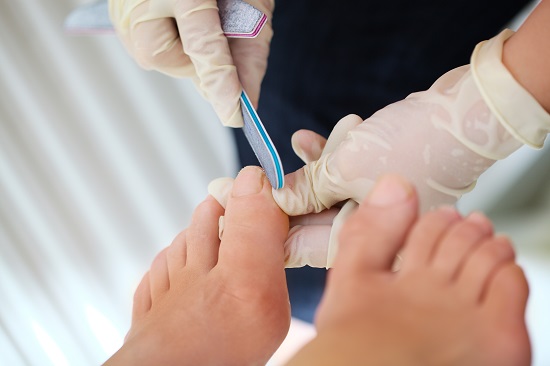 What Should I Know Before Getting A Pedicure?
Treating yourself to a pedicure is easy. You relax in a comfortable chair and flip through some magazines while your feet get pampered and pretty.
But with your mind distracted by the latest news form Hollywood, are you aware of the risks you expose yourself to as your nail technician scrubs, snips and scrapes at your feet? Chiropodists do, and they treat the results regularly.
The first place your feet go when you get a pedicure is a tub that regularly contains water, and other people's feet. Bacteria, infectious diseases like nail fungus, and viruses such as plantar warts thrive in a wet environment and especially love jet outlets. At home you've seen the visible evidence of regular use of a tub or sink; that same scum collects in the jet piping, and that space is not easy to clean. Anything collected in the jet outlets will be on your feet as soon as the jets are activated. This is also why you shouldn't shave your legs (or feet!) before you go to the salon because the micro tears shaving creates send you to your appointment with open wounds. Tell your nail technician to skip the jets during your foot soak– manual massage is part of the pedicure anyway!
Show your cuticles respect. Tell your nail technician not to cut or trim your cuticles, but it's all right to gently push them back. Your cuticle is the barrier between your growing nail and infection. As your nails grow outwards the cuticle prevents anything from going into your body via the nail bed which, especially considering we walk around with open-toed shoes through city streets, it's a good thing that barrier exists. Cutting cuticles may also lead to nicking the skin around your toes, another open wound. Avoid causing your cuticles unnecessary trauma. A little moisturizer will have them looking great in no time.
Ask questions before you go about the cleaning and sterilizing process. Does your salon sterilize tools, use new tools on every client, or dedicate a set of tools for regular customers? What form of sterilization do they use? Can you bring your own tools and nail polish? Do they provide disposable footwear if you have to walk anywhere before your polish is dry? Autoclave machine or Barbicide liquid disinfectant is the answer you want to hear about tool sterilization, and anything made of paper, cardboard or foam (think emery boards and toe separators) should be single-use only.
It's important to thoroughly scope out your nail salon. Make sure that foot tubs are cleaned after each use, and that technicians pick up freshly sterilized or brand new tools for every client. Bring your own flip flops or sandals rather than using salon-provided footwear.
Rules for cleanliness and care for pedicures also goes for DIY pedis. Set up a clean area before you get your feet wet, make sure the basin you soak your feet in is scrubbed, and that your pumice stone, nail file and nail clippers have been cleaned. It's not a bad idea to have your own nail grooming tools in any case.
Limit your pedicure-unknowns to polish colour choice and treat yourself to healthy feet! Are your funky feet beyond the help of a nail technician? Book an appointment at Wilson Health Services with our chiropodist Patricia Wilson by calling (519) 624-8000.