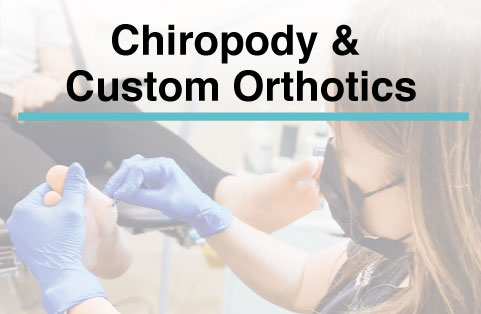 FILL OUT THE FORM BELOW BOOK YOUR APPOINTMENT TODAY
WILSON HEALTH SERVICES PARIS IS LOCATED ON REST ACRES RD
The goal of our Paris Chiropodist at Wilson Health Services is to enhance the quality of life for all of our patients. They do this through preserving and enhancing patient mobility, treating foot discomfort, and educating patients about their health.
Chiropody is a medical specialty that focuses on the diagnosis and treatment of foot and lower limb disorders, including a broad range of ailments, traumas, and local symptoms of clinical conditions.
A Chiropodist is a primary care physician who specializes in the diagnosis, treatment, and prevention of foot ailments and disorders.
Chiropody | Foot Care | Ingrown Toenails | Orthotics Paris
● Foot Care   ● Callus, Corn, Wart Removal  ● Ingrown Toenails  ● Nail Surgery  ● Custom Orthotics  ● Compression Stockings
Chiropody is a field of practice that specializes in the assessment and treatment of foot diseases, injuries, and local symptoms of clinical problems affecting the feet and lower limbs.
A Chiropodist is a primary care practitioner which specializes in assessing, managing, treating, and preventing foot disorders.
Wilson Health Services' Paris Chiropodists strives to improve the quality of life for all of their patients. This is accomplished through conserving and improving patients' mobility, alleviating foot pain, and informing and educating patients about their foot health.
GET ON THE PATH TO RECOVERY, BOOK YOUR APPOINTMENT TODAY!
What is Chiropody?
A Chiropodist is a primary care health practitioner that specializes in the assessment, management, and prevention of diseases and disorders of the foot.
In Canada, chiropodists and podiatrists are the only regulated foot Professionals educated exclusively in the assessment and treatment of foot disorders.
Chiropodists undergo extensive training to meet these requirements. Chiropodists take seven or eight years of post-secondary school training before beginning to practice.
The role of the Chiropodist is to improve all patient's quality of life. They do this by maintaining and improving patient mobility, alleviating foot pain, and providing health education.
Wilson Health Services Advantages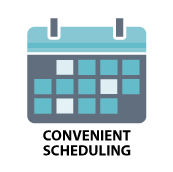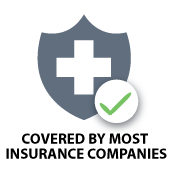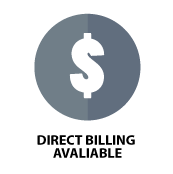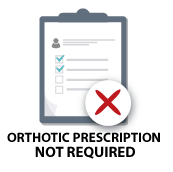 Nail Care
Diabetic Foot Care
High Risk Foot Care
Callus Removal
Corn Removal
Wart Treatment
Custom Foot Orthotics
Diabetic Insoles
Wound Management
Customized / Modified Orthopedic Footwear
Gait Analysis
Sports Injuries Management
Biomechanical Assessment
Pediatric Foot Management
Nail Surgery
At Wilson Health Services Foot Care & Orthotics we focus on using therapeutic, surgical, orthotic or palliative means to bring you back to your normal self through exceptional care.
MEET OUR WILSON HEALTH SERVICES CHIROPODISTS
Patricia Wilson | Paris ON Chiropodist
Patricia Wilson (BScN, RN, DCh), fondly known as Patricia, is our proudly Canadian Chiropodist at Wilson Health. Patricia's journey to a career that she loves is a beautiful story and her positivity is infused with a spirit of gratitude and humility.
With deep roots back in Colombia where she lived for much of her teenage years and early adulthood, she returned to Canada as a young adult to pursue a nursing career. Her rewarding twelve years as a pediatric nurse instilled her strong commitment and deep values to help others. This love for patients as their health advocate would lead her to the healing profession of Chiropodist and custom orthotics care.
Patricia understands the medical science behind injuries and issues surrounding the feet and how that can affect the entire body. Understanding that many diseases and ailments can show up first in the foot, Patricia believes she has a purpose-driven career that brings meaning, prevention, education and exceptional care to the people she serves.
With her personalized approach, backed by a wealth of experience and dedication to her patients, Patricia has gained a notable reputation in the field of chiropody care throughout the Waterloo Region and Guelph area.
Blending a caring, inclusive environment with access to education and various therapy options to encompass health challenges reflects her approach to healthy living and overall wellness. Patricia embraces the opportunity to educate her patients from simple things about how to cut their toenails to warning signs and complexities of the biomechanics of the feet and lower extremities.
Patricia's love for people and her endearing smile put people at ease from the very first consultation. Her interest in every patient goes far beyond foot conditions and care, as she makes every effort to support and guide her clientele to help with the issues they face.
With her husband Dr. Jay Wilson, they have created a family wellness centre in Cambridge that works hard to improve their patients' quality of life. In 2018, Patricia opened the Guelph clinic to expand the services to that demographic. Improving mobility, providing education and alleviating pain are fundamental values they both share.
Patricia's commitment and love for people starts at home. She adores her husband Jay, their three beautiful children, their dog Bernie and the life they have created together in the Puslinch Lake community. As Patricia always says, she loves them all to the moon and back, forever and ever, and to infinity and beyond.
Patricia manages all her roles seamlessly and loves making a difference that changes lives for the better, one foot at a time.
Managing all her roles seamlessly, Patricia loves making a difference that changes lives for the better, one foot at a time.
Nicole Yee | Chiropodist Paris/Brantford ON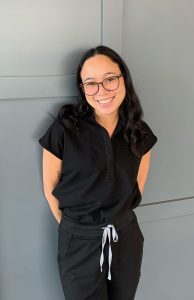 Nicole Yee received her Honours Bachelor of Science from McMaster University in Life Sciences in 2019 before going on to complete the Michener Institute's Diploma of Chiropody in 2022.
Nicole grew up in Mississauga but now resides in Kitchener, Ontario. Her passion for improving foot health traces back to her background running track & field and cross country. She had consulted foot specialists herself for sports injuries over the years and became interested in the full scope of practice Chiropody offers.
Nicole is passionate about providing complete and compassionate foot care with a holistic approach. She prioritizes listening to her patient's concerns and connecting to them.
When she isn't helping out a patient with their foot health, Nicole enjoys working out, trying out new recipes, and having paint nights with friends. She looks forward to helping you take a "step" towards pain-free, healthy feet!
Carissa Collins | Chiropodist Wilson Health Guelph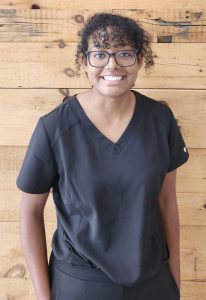 Carissa Collins majored in Bio-medical science at the University of Guelph, Carissa's academic journey laid the foundation for her career in foot care.
After completing her education, Carissa's path led her to the Chiropody Program at the Michener Institute, where she started honing her clinical skills and discovered her innate love for patient care. Her time at Michener emphasized the significance of collaboration, inspiring her to work harmoniously with her peers to ensure the best possible outcomes for her patients.
Now, Carissa is excited to rejoin the Tri-Cities community, a place close to her heart, and extend her expertise to the people within and around it. Her commitment to improving the well-being of her patients shines through in her dedication and genuine care.
Outside of the clinic, Carissa enjoys spending quality time with her loved ones baking, and embarking on outdoor adventures through hiking trails.
Holly Swartz | Wilson Health Chiropodist Paris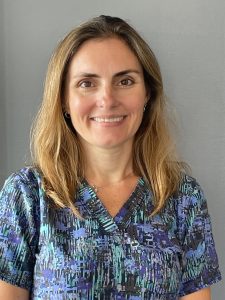 Holly Swartz (RN, CFCN) graduated from Conestoga College as a registered nurse in 1999. After graduating she joined Cambridge Memorial Hospital where she pursued her passion to provide quality evidence-based care to her patients for 23 years. Holly's experience includes 17 years in acute medicine often taking on the role of team lead and 5 years in an Outpatient
Oncology Clinic.
Holly has completed her Advanced Foot Care Certification at Mohawk College and is excited to be serving her home community at Wilson Health Services. As a Foot Care Nurse Holly is qualified to manage various foot conditions, including corns, calluses, ingrown nails, and
provide safe and gentle diabetic foot care.
Holly's goal is to improve and maintain the quality of life of her clients by helping to preserve their mobility, decrease foot discomfort, and provide
education to decrease risk of developing foot complications.
When Holly isn't caring for feet, she has been completing her certification in Pilates to share her love for physical fitness with others. If you were to pop by her house, you would most likely find her tending her vegetable and flower gardens which continues to expand each year. Holly also loves spending time with her husband, three girls and two dogs. There is never a dull moment when they are together!
Chiropodist vs Podiatrist
Chiropody is a field of medicine that focuses on the feet. Chiropodists and podiatrists are both members of the chiropody profession, and they are both regulated by the same body in Ontario, Canada. What is the difference between a chiropodist and a podiatrist, though?
A Podiatrist, or Doctor of Podiatric Medicine, is a practitioner who has completed their study in the United States. They have a four-year PhD in podiatric medicine and at least three years of podiatric medical and surgical residency under their belts. In July 1993, a cap was imposed in Ontario, and no more podiatrists were allowed to register with The College of Chiropodists of Ontario. Chiropodists and Podiatrists from the United States were both needed to register.
Chiropodists are not authorized to charge OHIP or transmit a "diagnosis," although Podiatrists are. Chiropodists can only operate on soft tissues like tendons, whereas Podiatrists can do bone surgery.
Chiropody treatments are provided at Wilson Health Services Paris. To find out which service is best for you, call (519) 442-0642.
Custom Foot Orthotics In Paris
Using orthotics for foot related issues
One of the numerous reasons you may be suffering back, leg, foot, or heel pain is the shoes you're wearing. Because your whole body is supported by your feet, it is important to wear the appropriate footwear. If your feet are not comfortable and at ease, it is likely that your life will be uncomfortable. This is mostly due to poorly fitted shoes.
If you use custom-made foot orthotics, you may be able to address your problem quickly. If you have a flat foot, diabetes-related pain, or other issues, these little shoe inserts might be one of numerous possibilities. Personalized foot orthotics are used by even elite athletes to ease pain and promote comfort.
What do you know about orthotics?
Orthotics are removable devices that may be inserted into almost any shoe. They help with foot alignment and support, as well as improving foot function and accommodating and correcting foot abnormalities. When worn in conjunction with the proper footwear, they are especially effective in treating a variety of foot and lower limb conditions.
The reason behind the need for orthotics?
Our Paris Chiropodists have been recommending and prescribing orthotics for many years. Their primary purpose is to aid with the balance and stabilization of the feet and lower limbs. If your feet have a solid support foundation, you may be able to walk or even jog comfortably. All of your foot pain, postural concerns, and muscle weariness might be alleviated more rapidly.
Orthotics can help you primary with:
Foot pain
Heel Pain
Achilles pain
Knee pain
Shin aches
Lower back pain
Neuropathic pain
Callus or corns
Whether you're having trouble in any of the areas indicated above, make an appointment with your local Paris chiropodist to evaluate if you require orthotics.
WHO CAN BENEFIT FROM ORTHOTICS?
People suffering from an ongoing foot pain
If you have persistent foot soreness, it might be difficult to go about your daily routine. If you are unable to stand or walk properly and feel you need help, please contact us. In certain cases, custom orthotics may be quite effective.
A diabetic patient
Diabetic nerve damage may occur in the feet, which is where neuropathy commonly occurs. As a consequence, diabetics lose sensation in their feet and are unable to perceive cold or hot temperatures, as well as pain and stress, which may lead to calluses and corns, which, if not handled, can lead to pressure ulcers. Orthotics are used by many diabetics to help them control or eliminate their foot problems.
A patient of arthritis
Arthritis is a painful condition that affects the joints throughout the body. Legs, knees, and feet may all be affected by the painful condition. Orthotics have been demonstrated to be beneficial.
Runners and athletes
Custom-made foot orthotics are beneficial to athletes because they boost their strength, endurance, and capacity to perform better. Orthotics give the support and alignment that your leg's muscles, bones, tendons, and ligaments need to perform correctly while also avoiding injuries and pain.
Back and knee pain sufferers
There might be an issue with your foot biomechanics if you have chronic soreness in your knees, hips, or lower back that hasn't responded to typical treatment. Orthotics are an excellent approach to alleviate this kind of pain.
How do orthotics work?
To understand the function of orthotics, one must first understand the walking mechanics. With each step, your heel's vertical axis must fall inverted to the ground, with a position of a few degrees towards the heel's outside. It's the point at which the toes of your foot flatten and lift off the ground.
As a consequence, your weight transfers from the outside to the inside of your foot as you take a stride, then back to the lateral. The problem comes when these motions are too pronounced in the case of plantar fasciitis or do not occur as often in the case of a pes cavus. When you wear a corrected orthotic to support your arch, it may assist your feet absorb shock, ease stress, and relieve pain.
Types of Orthotics
Our Paris Chiropodist will recommend one of the two types of orthotics during an appointment.
These orthotics are primarily designed for those who have poor foot function. Plastic polymer materials are used to make these devices, which assist to protect the arch from flattening. Effective orthotics may cushion the impact from the ground when walking or running, reducing stress and reducing the risk of injury.
You should look into accommodative orthotics if you have minor foot issues or pain. This foot device is often given to those who need assistance with previous anomalies such as bunions, hammer toes, and other foot deformities.
To discover more about Custom Orthotics Paris, call 519-442-0642.
GET ON THE PATH TO RECOVERY, BOOK YOUR APPOINTMENT TODAY!
Foot Conditions
Warts
Mild growths on the heels or balls of your feet are known as plantar warts. They usually go away on their own and pose no threat to your health. Plantar warts, on the other hand, may be painful and need treatment with a specific medication. A plantars wart is characterized by a small, fleshy, rough, grainy growth on the bottom of your foot with or without black pinpoints. Many people confuse a wart with a corn, however a wart disrupts the normal lines and ridges in the skin of your foot, but a corn does not.
Plantar warts are caused by an infection of the human papillomavirus (HPV) in the outer layer of skin on the soles of your feet. HPV thrives in warm, humid environments like a locker room or a swimming pool.
Plantar warts normally go away on their own after a year or two, although it may take longer. If your warts are bothering you or spreading, please see a Paris foot specialist.
Toe Types
Hammer toe, Mallet Toe, and Claw Toe are all forms of toe problems that may cause a lot of pain.
Hammer Toe


A hammer toe is defined as a toe that is constricted at the middle joint. Ligaments and tendons contract, causing the toes to curl downward. Except for the big toe, hammer toes may affect any toe. Flexible and stiff are the two factors. The hammer toe joint of a flexible hammer toe may move. The capacity to move is not the same for a stiff hammer toe. Both flexible and stiff hammer toes may be harmless, however calluses or corns generated by friction on the tops of shoes might cause discomfort.
Mallet Toe

Rubbing the mallet toe on the top of the shoe too much might cause discomfort and the formation of a corn. The tip of the toe is often pressed against the shoe, creating pain and pressure.
When the joint at the end of the toe can't straighten, it's called a mallet toe. Mallet toes may be quite uncomfortable, and they can be made worse if you wear tight or ill-fitting footwear for an extended length of time.
Claw Toe


A claw toe is a toe that is clenched at the middle and end joints, causing considerable discomfort and pressure. Tightened ligaments and tendons have forced the joints to curve downwards. Claws may be either flexible or stiff. The joint of a flexible claw toe is movable and may be straightened manually. An inflexible claw toe lacks the capacity to move or moves only very little and is exceedingly uncomfortable.
Tenia Pedis
Athlete's foot is a common fungal illness that affects the skin of the feet. Fungi, or fungal germs, are often found in minute amounts on human skin, where they do no harm. If the conditions are right, they may penetrate the skin, disseminate, and cause infection. The fungus thrives in warm, damp, and airless areas of the skin, such as between the toes.
Athlete's foot is an infectious ailment that may be transmitted from one person to another. Among the signs and symptoms are:
As the rash spreads, it becomes itchy and scaly.
It's conceivable that the skin may break and become irritated.
Infected skin flakes may splinter into small flakes.
The rash may spread down the toes if left untreated.
In certain cases, it may even spread to the soles.
A scaling rash covers the whole sole and side of the foot.
Fungi seldom penetrate the skin beyond the epidermis. Other germs (bacteria) may enter the athlete's foot if it isn't treated. This may result in more serious foot or leg infections. In certain situations, the infection might spread to a nail. This is a problem that can be resolved.
To schedule a Paris Chiropody consultation, call 519-442-0642 today.
Shin Splints
Shin splints are a common occurrence in sports, especially among runners. After running or just walking, overexertion of the muscles creates soreness in the front or inside aspect of the lower leg or shin. Without a history of trauma, pain usually develops over time. Shin splints should not be neglected due to the increased risk of stress fractures.
Shin splints are caused by overworking the muscles in the front of the foot. Common causes include wearing worn-out sports shoes with insufficient shock absorption, flat feet that place more stress on the lower leg muscles during activity, and high arched feet with insufficient shock absorption.
Posterior Tibial Tendonitis
The posterior tibial tendon travels down the inside of the ankle and foot. The posterior tibial tendon passes through the instep on its way from the inside of the ankle to the bottom of the foot. The tendon supports the arch of the foot and assists in the inward turning of the foot during walking. Flat feet are caused by post-tibial tendon disfunction, which occurs when the tendon fails to maintain the arch of the foot. This may cause heel soreness, arch pain, plantar fasciitis, and/or heel spurs. Weight-bearing activities, such as walking or running, will aggravate the discomfort.
Posterior tibial tendonitis occurs when the muscle is overused and the tendon that connects the muscle to your bone is strained. Flat feet might lead to posterior tibial tendon weakening in the long run. The tendon will be destroyed if you continue to misuse the muscle, and tendonitis will develop. At initially, the soreness or swelling may come and go, but the problem may grow more persistent with time.
Ingrown Nails
Ingrown toenails are a common problem that mostly affects the great toe. The ingrown nail curls into the surrounding skin as it grows, pushing the skin to grow over it. Ingrown toenails cause sore, sometimes painful, nail folds with varied degrees of redness, swelling, and occasionally clear or yellow discharge. Ingrown toenails are normally self-healing and do not need medical attention. A foot care expert may be required for more complicated issues.
When the sideways forming segment of the nail functions as a foreign body, pushing into or pinching off a little piece of skin at the toe's outer border, ingrown toe nails occur. This might result in a skin break, which could cause discomfort and infection. As a result of the irritation, the nail skin fold thickens even more, exacerbating the disease. The protruding nail fragment continues to push into the skin, hurting and aggravating the pain.
Heel Pain
Heel discomfort is a common condition that causes terrible pain when you bear weight on your heel. Heel soreness is often caused by overuse of recurrent stress from too much pressure on a specific area of the foot. A number of causes may contribute to heel pain syndrome. Wearing shoes with very low heels, a thinning fat pad in the heel area, or a sudden increase in activity are all possible causes. Another possible reason of heel pain is plantar fasciitis.
Fungal Nails
Fungi infections of the nails are quite common. The infection causes larger, unsightly nails that are sometimes painful. Toenails are more often affected than fingernails. It mostly affects adults over the age of 55, but it also affects younger people who use communal showers. Infections of the skin, such as athlete's foot, may spread to the nails. Nails that have recently been damaged are more prone to get infected. You're more prone to have a fungal nail infection if you have diabetes, psoriasis, poor circulation, a weaker immune system, or are otherwise unhealthy.
The infection normally only affects one nail, although it might damage many. At initially, the infection is usually painless. The nail may seem thicker and darker, but there are no other signs or symptoms. There may be white or yellow patches. It is conceivable that the nail may become brittle and shatter. It's possible that a bit of your nail may break off. It's conceivable that the skin around the nail is inflamed or scaly. If the infection is not treated, it may cause damage to the nail and the nail bed, as well as discomfort.
Fungus nail treatment is difficult since it does not always cure the infection, and even when it does, the nail's appearance may not return to normal. Antifungal drugs must be used for many months, if not years, to be successful.
Corns and Callus
Corns and Calluses are two very similar and extremely common foot conditions.
Corns

Corns are a very common and usually form on the tops, sides and tips of the toes. They develop from an accumulation of dead skin cells on the foot. They contain a cone-shaped core or nucleaus with a point that can press on a nerve below and cause pain.
Corns can be caused by wearing tight fitting footwear, high heeled footwear, tight fitting stockings and socks, deformed toes, or the foot sliding forward in a shoe that fits too loosely. Corns in between the toes can result from bony prominences.
Callus
Calluses are caused by an accumulation of dead skin cells that harden and thicken over an area of the foot. Callus are the body's way to protect the foot against excessive pressure and friction. Calluses are normally found on the ball-of-the-foot, the heel, and/or the inside of the big toe.
Calluses develop because of excessive pressure at a specific area of the foot. High-heeled dress shoes, shoes that are too small, obesity, abnormalities the way you walk, flat feet, high arched feet, bony prominences, and the loss of the fat pad on the bottom of the foot are all common causes of calluses.
Bunions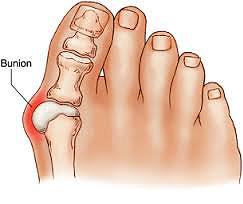 It is thought to be one of the most frequent forefoot issues. At the base of the big toe, a bunion is a bony expansion of the joint and surrounding soft tissues. The expansion leads the big toe to bend in closer to the other toes and makes the big toe joint stand out farther on the side. Bunions produce little or no discomfort for some persons.
Inflammation, swelling, and discomfort on the lateral surface of the big toe are all symptoms of bunions. A patient's pain often leads them to walk incorrectly.
Some individuals get bunions as a result of wearing improperly fitting shoes (especially high heels or narrow-toed shoes). Bunions are caused in some persons by circumstances beyond their control. A family history of a foot type prone to bunions, neuromuscular diseases, ailments affecting the joints (e.g., arthritis), severe foot injuries, congenital abnormalities, and difficulties influencing the way a person walks are examples of these (e.g., rolling in at the ankles, pronation, etc.)
Achilles Tendonitis
Achilles tendonitis causes the achilles tendon to become inflamed and deteriorate. The achilles tendon, which extends from the back of the leg to the heel, is a big tendon. Pain may develop gradually if there is no history of trauma. Achilles tendinitis should be treated on a regular basis since the tendon has the potential to weaken and rip. Achilles Tendonitis may be caused by excessive tendon stress from sports or running, as well as long durations of standing.
A frequent sign of achilles tendonitis after running or other sports activity is slight discomfort at the back of the leg or above the heel. You may have more intense pain after a long duration of running, stair climbing, or sprinting. Athletes with achilles tendinitis often complain about how difficult it is to get out of bed in the morning. Soreness after walking a few steps after sitting for long periods of time is another common symptom. The soreness generally goes away with exercising.
The most common cause of achilles tendonitis is over-pronation. The achilles tendon is placed under increased pressure when the arch collapses as a consequence of weight-bearing. Achilles tendonitis is caused by a variety of reasons, including improper shoe selection, poor stretching before sports, a short achilles tendon, direct stress to the tendon, and heel bone deformity.
Plantar Fasciitis
Plantar fasciitis is a painful condition that affects many individuals. It affects the heel and soles of the feet. Inflammation or degeneration of the plantar fascia of the foot is common. The plantar fascia is a thick fibrous band of connective tissue that runs down the sole of your foot from your heel bone to the base of your toes. The plantar fascia supports the arch of the foot.
Plantar fasciitis is most often caused by overuse of the plantar fascia, excessive physical activity, or weight gain. It's generally associated with prolonged weight bearing, and it's more common in those with flat feet or collapsed arches.
Plantar fasciitis is a painful condition that affects the bottom of the heel and is most noticeable while taking the first few steps of the day. Plantar fasciitis, which is caused by stress in the gastrocnemius muscle or Achilles tendon, is known to make it difficult to move the toes toward the shin.
WILSON HEALTH SERVICES PARIS IS LOCATED ON REST ACRES RD